Our Services
Estate Sales & Estate Liquidation Services in Oklahoma City & Tulsa, Oklahoma
Estate Sales in Oklahoma City and Tulsa
An estate sale or estate liquidation is a sale or auction to dispose of a substantial portion of the materials owned by a person who is recently deceased or who must dispose of his or her personal property to facilitate a move. An estate sale may also take place because of divorce, foreclosure, downsize, or relocation.
A professional estate liquidator is necessary as the scope of the liquidation process is likely to be overwhelming. Elliott's Estate Sales has knowledge and experience with pricing items and general value knowledge of all types of household goods and personal property.
Elliott's Estate Sales is dedicated to handling everything from the sale or auction of an estate's personal belongings to liquidating tens-of-thousands of feet of commercial equipment and property.
We treat our customers with kindness and professionalism throughout the process, which has given us a solid reputation we continually strive to maintain. Our estate sales are growing in popularity as we lead the way bringing new and regular shoppers to our live, local, estate sales and commercial liquidations.
Why Elliott's Estate Sales?
Our company deals with estate liquidation on a full-time basis and has the capacity to handle all sizes of estate liquidations. As a result of conducting weekly estate sales, our company has amassed a great following from our websites, our Facebook pages, our iPhone and Android App, and our e-mail newsletters.
To provide quality and efficient services to our clients, our company is well equipped with large box trucks, display tables, jewelry cases, signages, modern cash registers and more. We have all the equipment and tools necessary to present your merchandise in the best way possible. We accept all credit/debit cards to make it easy and convenient for buyers.
Staging and Display
We treat staging and displaying as the most important step. Before a sale, Elliott and his staff make sure every item in the sale is well organized, polished, and cleaned. In addition to organizing and cleaning we design a beautiful eye-catching display of all items to be sold. If, during our staging process, we find items that are of sentimental value that was initially not mentioned we make sure that we consult with you.
We effectively utilize all our display tables, shelves, storage areas, and also provide additional tables for display if required. Additionally, we may also use our clothing racks and shoe display units. For estates with jewelry, guns, and small valuable items, we ensure that we safely display them in our locking table-top glass cases.
Expert Pricing
We valuate and carefully mark all sale items with our materials. Client's input regarding the value of specific items is always considered well before the sale event. We also engage outside appraisers at our expense to value items of potential substantial value that are not within our area of expertise.
Viral Advertising
In this crucial step, we take care of the advertising activity by placing advertisements with photos and detailed product descriptions on our popular website, to reach out to people and subscribers in our large database who have signed up to be on our email list, who have downloaded our iPhone and Android App, and who have subscribed to our Facebook page. We also advertise on popular member's only 'Estate Sale' websites.
Estate Sale Performance
We conduct the sale in a professional and most efficient manner keeping in mind our two key objectives: to sell every available item and to maximize proceeds for our client. In order to achieve this and assist with the selling activity, we will hire the required number of individuals from our pool of reliable, seasoned and experienced professionals who have been with us for a long time.
Security & Law Enforcement
Security is of primary focus and we take all necessary measures to guard all sale items against theft or damage. We are able to achieve this by using locked showcases for small items of great value, moreover, we hire law enforcement if necessary to ensure the safety of the merchandise. Furthermore, we can install sophisticated security cameras in your home to keep your merchandise safe.
Payment Methods
We accept all major credit cards and cash during an estate sale; however, WE DO NOT ACCEPT CHECKS! The payment to the client typically is made within one week from the date of conclusion of the sale. Since sales tax is mandatory in Oklahoma for estate sales, we collect this tax from our shoppers at the time of purchase. For a small fee, we can also provide a detailed list of item transactions over $50.
Clean Outs
After each sale, there will be undesirable items that don't sell. We go through all the items that are leftover and arrange for charities to come and pick-up these leftover items. Some large estate sales will require a large dumpster, we take care of arranging for the dumpster drop-off and pick-up leaving the home in broom-clean condition. This service is very efficient, affordable and is being used by most of our clients.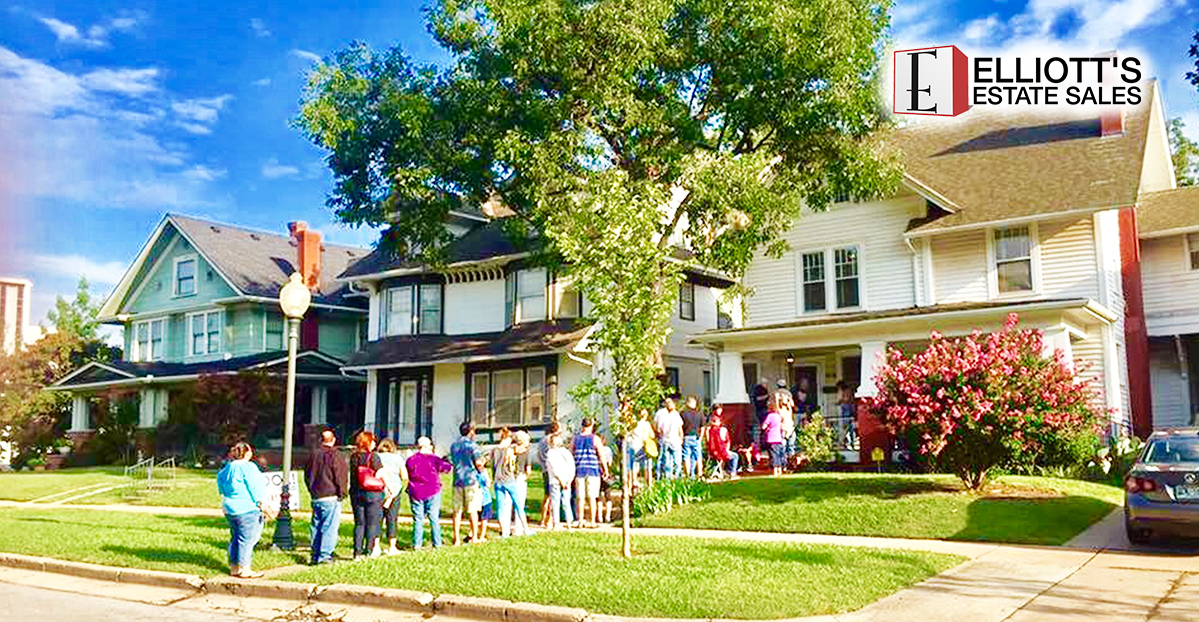 Let's Get Started
Are you ready to speak with an expert? Call today!
Oklahoma's Favorite Estate Liquidator
Estate Sales & Estate Liquidation Services in Oklahoma City & Tulsa, Oklahoma
Meet Elliott
Testimonials